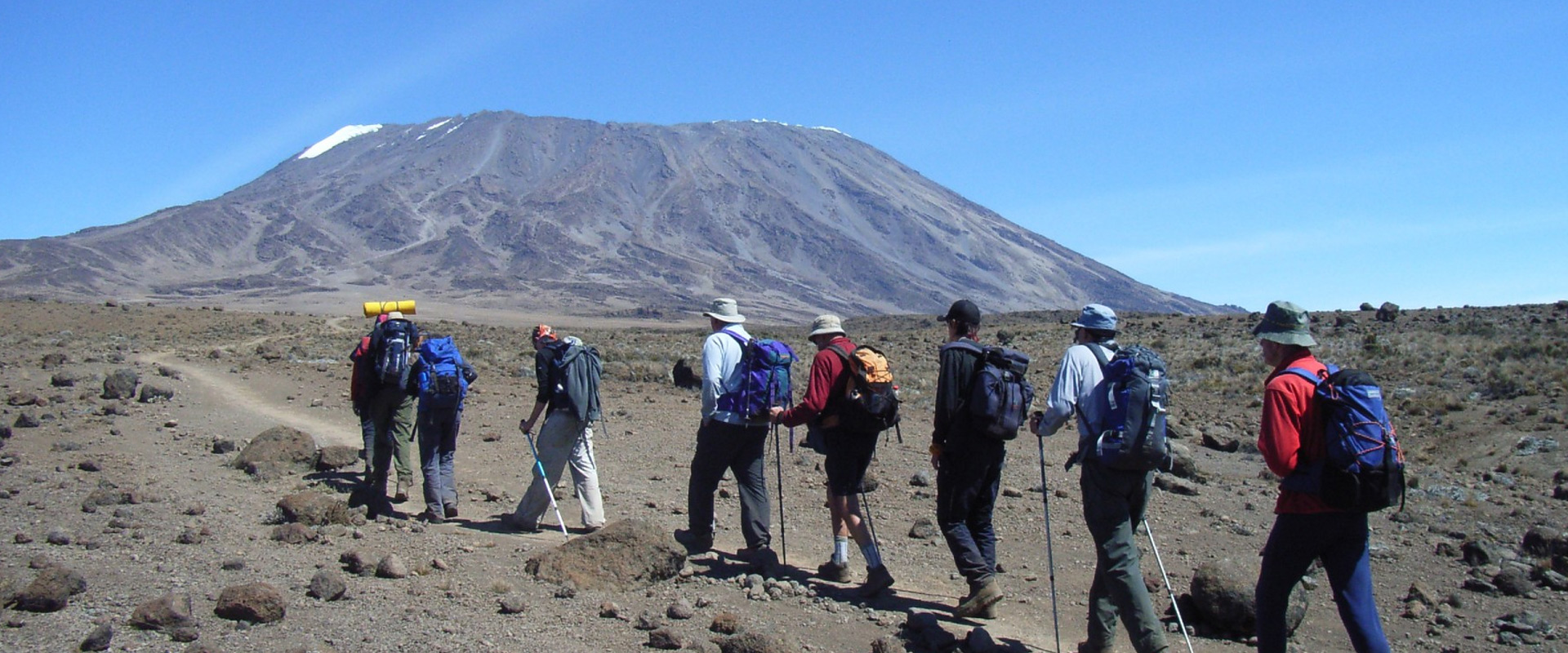 Tour Overview
The Rongai Route is the only route to ascend up the North side of the mountain, originating close to the Kenyan border. It is one of the less frequently used routes, mostly attributed to the long drive required toreach the gate on day one. This has its advantages though, as it is less crowded and therefore a quieter way to ascend the mountain. It is also the only route to afford you such a close view of Mawenzi Peak, Kilimanjaro's second highest peak, as you sleep under it on night three.This route meets up with the Marangu route upon descent, allowing climbers a different view of the mountain on the way down. Although Rongai climbers do not experience the rainforest on day one, they are given the chance on the final day of the trek before reaching the gate where the climb concludes.
Day by Day Itinerary
DAY 1: Arrive in Tanzania
Arrive anytime at Kilimanjaro International Airport (JRO), there will be a pick up private transfer waiting to Kilimanjaro Wonder hotel in Moshi. We will gather in the evening for a pre- climb briefing and an equipment check. We will also confirm you have the appropriate mandatory medical coverage and travel insurance.
DAY 2: Moshi - Rongai Cave
Wake early and drive about one hour to the Marangu Gate where you will register. Thereafter drive approximately 2.5 hours to the Rongai Gate (1950 m) where you will meet your porters before beginning the trek from the Nale Moru Village. The small winding path crosses maize fields before climbing gradually through a pine forest. Spend the night at Rongai Cave (2600 m).
Trekking Time: 3-4 hours ⎟ Distance: 7 km⎟ Altitude Gain: 650 m.
DAY 3: Rongai Cave - Kikelewa Cave
The trail continues up towards Kibo, passing Second Cave en-route, and reaching Kikelewa Cave at 3600 meters. From here the views start to open up affording expansive views of the summit. Spend the night at Kikelewa Cave.
Trekking Time: 6-7 hours ⎟ Distance: 9 km⎟ Altitude Gain: 1000 m.
DAY 4: Kikelewa Cave - Mawenzi Tarn
A short but steep climb up grassy slopes is rewarded by superb all-around views and a tangible sense of wilderness. You will leave the vegetation behind shortly before reaching the next camp at Mawenzi Tarn (4330 m), spectacularly situated directly beneath the towering spires of Mawenzi Peak. The afternoon will be free to rest or explore the surrounding area as an aid to acclimatization.
Trekking Time: 4-5 hours ⎟ Distance: 7 km⎟ Altitude Gain: 730.
DAY 5: Mawenzi Tarn
Spend the day at Mawenzi Tarn to acclimatize. You will be able to trek and explore the area in addition to resting to ensure readiness to continue the trek the following day.
DAY 6: Mawenzi Tarn - Kibo
Cross the lunar-like desert of the 'Saddle' between the Mawenzi and Kibo peaks to reach Kibo campsite (4750 m) at the bottom of the Kibo crater wall. Spend the evening resting for the final ascent to thesummit. Trekking Time: 5-6 hours ⎟ Distance: 8 km⎟ Altitude Gain: 420 m.
DAY 7: Kibo - Uhuru Peak - Horombo
Wake around midnight to begin your ascent to Uhuru Peak. The first section of the trail consists of a rocky path to the Hans Meyer Cave. You will then take on switchbacks up to Gillman's Point at 5681 m, situated on the crater rim. This section is very steep with much stone scree and is the most demanding section of the route. From Gillman's Point, hike for another two hours up to Uhuru Peak (5895 m), the highest point in Africa. You made it! Enjoy a short time on the Roof of Africa before beginning the descent.
Trekking Time: 6-8 hours ⎟ Distance: 9 km⎟ Altitude Gain: 1145 m.
Descend via the Marangu Route, passing through Kibo Hut and then onto Horombo (3720 m), where you will spend your last night on the mountain. Enjoy your final mountain dinner and a well-earned night's sleep.
Trekking Time: 5-6 hours ⎟ Distance: 12 km ⎟ Altitude Loss: 2175 m.
DAY 8: Horombo Hut - Moshi
After breakfast, continue your descent, passing Mandara Hut down to the Marangu Gate (1842 where you will receive your summit certificates courtesy of the Kilimanjaro National Park Authority. You will be met by a vehicle for the transfer back to your hotel in Moshi town. Back to Moshi where you can treat yourself to a well-earned shower and a cold beer or two. Trekking Time: 5-7 hours ⎟ Distance: 18 km⎟ Altitude Loss: 1878 m.
DAY 9: Departure day in Tanzania
We will transfer you from the hotel to Kilimanjaro International Airport (JRO) where you will fly back home.
The Price
| Route | Days | 1 pax | 2-4 Pax | 4-6 Pax | 6-8 Pax | 8-10 Pax | 10-12 Pax |
| --- | --- | --- | --- | --- | --- | --- | --- |
| Rongai | 9 | $3400 | $3300 | $3200 | $3100 | $3000 | $2900 |
Our package includes the following
- 2 transfers to and from the Kilimanjaro Airport (JRO).
- Tanzania VAT on tourism activities and park fees.
- Adequate and appropriate number of guides, porters, and cooks for your group.
- Government taxes.
- All park fees, camping fees, rescue fees and team fees.
- Transfers to and from the route gate(s) (2 transfers)
- Sleeping mattress pad(s), dining tent(s), sleeping tent(s), and crew's equipment– Dining tent and sleeping tent for Kilimanjaro trek.
- 2 nights in a hotel in Moshi on a Bed & Breakfast basis and Double Occupancy (1 before trekking & 1 after trekking).
- 3 full fresh meals daily. We provide fresh food on the mountain in plentiful and well prepared by a skilled professional cooker (we also consider your choice of food that you would prefer -Vegetarian and Non Vegetarian). Menu especially designed for climbers.
- Hot drinks on the mountain and Hot water for washing will be provided everyday on the mountain.
- 3-4 liters of mineral (per Climber) provided daily during the climb
- Emergency evacuation covers with AMREF Flying Doctors for Kilimanjaro trek.
- Hotel accommodation includes storage facilities for excess luggage during hikes. - Kilimanjaro National Park rescue fees (Kilimanjaro Rescue Team)
- Chief guide carries a Pulse Oximeter, used to take blood-oxygen level readings of clients twice a day.
- Emergency oxygen (for use in emergencies only – not as summiting aid)
- Basic first aid kit (for use in emergencies only).
- Salaries for mountain support crew, as per required KINAPA and KPAP.
- Breakfast, lunch and dinner, as well as hot drinks on the mountain.
- Porter to carry your duffel bag, with maximum weight of 15kg / 32 lbs, from one camp to the next camp.
- Kilimanjaro National Park certificate for your successful summit attempt.
Excluded from Standard Package rates:
- Flights and airport taxes. ( Option We can organize a flight from your destination to JRO)
- Items of a personal nature.
- Compulsory tips for guides, porters and cook.
- Entry visa for Tanzania (US$50 per passport holder for most nationalities / US $ 100 per visa for USA passport holders).
- Health requirements (Yellow Fever – only compulsory if you travel to Tanzania via a Yellow Fever infected country, Meningitis & Hepatitis A remains optional, but comes recommended).
- Optional but highly recommended travel and medical insurance.
- Personal hiking/trekking gear – you could rent some of the gear in Tanzania.
- Snacks, personal medicine and water purifying tablets.
- Meals and drinks not specified.
Costs of additional services:
- Single supplement, for single tent/room, per trip $300.
- Extra porter, for excess gear, $30 per day.
- Extra hotel night in Moshi, check in 11AM, check out 10AM, per double room $180.
- Sleeping bag rental, Mountain Hardwear Lamina, synthetic -30F, per trip $50.
- Trekking poles rental, per trip $20.
Tipping
The guidelines for tipping are as follows:
- Guide - $15 to $20 per day
- Assistant Guide - $10 to 15 per day
- Chef - $10 to $15 per day
- Porters - $5 to $8 per day per porter
- These tips are paid as a group rather than by each climber. For example, in a group of 5 climbers, each climber would contribute $3 - $4/day for the guide's tip.
Examples of climb staff numbers:
- For a group of 3, you would typically have 1 guide, 1 assistant guide, 1 cook and 12 to 14 porters.
- For a group of 5, you would typically have 1 guide, 2 assistant guides, 1 cook and 17 - 19 porters.
- For a group of 12, you would typically have 2 guides, 3 assistant guides, 1 cook and 40 – 45 porters.
- The number of porters will depend on the total weight of all gear - including tents, food, utensils, climb staff gear, etc.